Recreation
Recreation/Club/Summer Camp
Welcome to the Village of Island Lake Recreation, Club, & Summer Camp Department.  See Classes Below:
· Before and After School Club For Cotton Creek School
· Camp Greenleaf for Ages 1st Grade – Going Into 5th
· Zumba
· Guitar
· Many Other Programs and Classes see below
 Recreation –
We are available for many of your recreational needs. We have programming for children as well as adults. We offer many sports classes such as, Zumba, T-Ball, Nerf Classes, Flag Football, Floor Hockey and more. We sponsor events as the Daddy Daughter Dance, Annual Craft Fair, Leprechaun Luncheon, Craft Classes, and many other events and classes. If you have a special talent or skill you would like to bring to the Recreation Department please let us know. Please call to your prior scheduled class start date. Many times, due to low enrollment some classes may change time, day, or get cancelled due to low enrollment. There is nothing that ruins a good program than waiting too long to register. Please be mindful of deadlines.
Club/Camp Greenleaf
Before and After School Club/Camp Greenleaf – Please see Download below to sign up for either of these programs. Partnered with Cotton Creek School and the Village of Island Lake Recreation Department, we are committed to providing a safe and fun environment during the school year as well as for Camp Greenleaf in the summer at the Village Hall. We provide a well supervised environment with free play, homework time, crafts, games, sports, etc We spend as much time outdoors as weather permits.
Contact
Village of Island Lake Recreation Department
3720 Greenleaf Avenue
Island Lake, Il 60042
Phone: (847) 416.7866
Hours: Monday-Friday 8am to 3pm
Club Registration Packet 2021-2022
ALL CLASSES ARE HELD AT VILLAGE HALL UNLESS OTHERWISE STATED

Registration Form Updated 4-2021
YOGA IS BACK!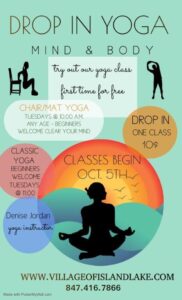 GUITAR IS BACK!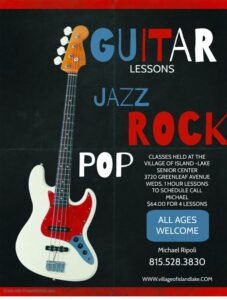 ZUMBA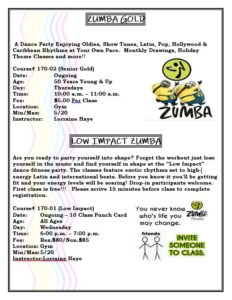 PEE WEE SPORTS